Step 4 : Deploy
Deploying a solution is an important final step in the project lifecycle. Wooster Group understands how to implement enterprise-level applications while minimizing impact on the organization and maximizing project success.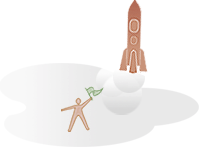 Application Release
When all parties are satisfied by the iterative testing of the development process, the project is launched. The method in which an application is released depends on several factors, including whether the application is a new release or an upgrade, and whether the client is currently running existing systems scheduled for integration or replacement.
User Training
In conjunction with the application release, training for users of the application is offered as needed. Training ranges from exposure to supporting technologies, to training sessions intended to educate users about the proprietary aspects of the application.
Support
Because most applications are constantly evolving and are accessible to users of varying degrees of technological savvy, it is often appropriate to offer ongoing support to realize the maximum return on investment. Information gathered during support sessions is used in subsequent discovery efforts as the application is upgraded.